Welcome to Leicester's specialist hot and urban yoga studio!
Our broad timetable of classes includes the iconic hot Bikram Yoga as well as a range of non-hot yoga styles, which we call 'urban' and all of which are suitable for people of every ability, including complete beginners. We've gathered together the most talented teachers to create what we believe is the ultimate yoga studio and welcome everyone to come and give yoga a try. We inspire you to take control of a healthy body and mind to create strong and resilient yoga bodies. Come and see how you evolve in our community.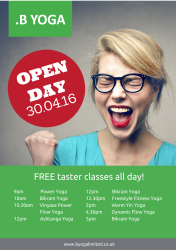 Details for our first open day of 2016 are now confirmed! We have a a total of nine, yes NINE free classes planned including three hot Bikram Yoga classes, one warm Yin Yoga and another five urban classes for you to try.