.B Yoga Leicester
Yoga Classes in Leicestershire
Our broad timetable of classes includes the iconic hot Bikram Yoga as well as a range of non-hot yoga styles, which we call 'urban' and all of which are suitable for people of every ability, including beginners. We've gathered together the most talented teachers to create what we believe is the ultimate yoga studio and welcome everyone to come and give yoga a try. We inspire you to take control of a healthy body and mind to create strong and resilient yoga bodies.
Leicester's specialist hot and urban yoga studio!
If you want to feel healthy without the need of going to a gym, give yoga a try. There are many different forms of yoga and they can all help in different ways, for example with Bikram Yoga you burn more calories due to the heated environment whereas Warm Yin Yoga is a deeply meditative style of yoga consisting of floor postures which helps with flexibility. It doesn't matter whether you are a complete beginner or an expert in yoga come and visit us at .B Yoga! We make sure that everyone is comfortable and having fun whilst getting great exercise.
Come and see how you evolve in our community.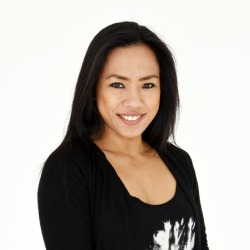 Name
Oratai Jay Vacharaphol

Where are you from?
I'm originally from Bangkok, Thailand but I've been in the UK for 13 years. Currently I live in Loughborough.

When did you first discover yoga?
I took my first hot yoga class back in 2007 in Thailand and enjoyed it so much I spent the next three months practicing as much as I could. I went on to try vinyasa and ashtanga but when I came to the UK to study my Masters I found I had no time for yoga and hardly practiced at all. Then in 2013 I found an ashtanga class in Nottingham and yoga has been a key part of my life ever since.

What kind of yoga do you teach?
Ashtanga and vinyasa yoga.

When did you qualify as a yoga teacher?
I become a certified teacher in November 2015 with All Yoga in Thailand. I started teaching regularly in Feb 2016. As well as at .B Yoga, I teach at a gym in Loughborough.

What did you do before coming a yoga teacher?
I was research/manufacturing engineer working in Coventry.

What do you enjoy most about teaching yoga?
I love to see students progress and benefit from practice.

What do you love about yoga?
For me, practice is about self-meditation and time to be with myself.

What's the best yoga tip you've ever been given?
Just practice and all is coming.

What do you do when you're not teaching/practicing?
When I'm not teaching or practicing yoga, I'm probably reading more about yoga! I also enjoy art, cooking and exploring new places when I can!