Welcome to Leicester's specialist hot and urban yoga studio!
Our broad timetable of classes includes the iconic hot Bikram Yoga as well as a range of non-hot yoga styles, which we call 'urban' and all of which are suitable for people of every ability, including complete beginners. We've gathered together the most talented teachers to create what we believe is the ultimate yoga studio and welcome everyone to come and give yoga a try. We inspire you to take control of a healthy body and mind to create strong and resilient yoga bodies. Come and see how you evolve in our community.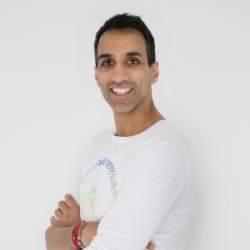 Where are you from? Originally from Birmingham but now living in Leicester. When did you discover yoga? I discovered yoga just over four years ago due to multiple injuries I sustained from practicing martial arts. I had problems with my back, both knees, both elbows and both shoulders. I had surgery on my knee and thought yoga might help with the recovery. Yoga has indeed changed my life since my first class in 2012.