Geoff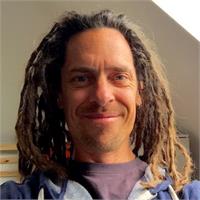 Before recently moving to Leicester, Geoff was the Prison Yoga Program Director for the American non-profit organisation 'Community Yoga'. He was trained in the Living Yoga Program in Austin, Texas.
Through sharing the practice of yoga with thousands of incarcerated men and women, he witnessed time and again the discovery of wisdom and simple contentment amidst the most challenging of circumstances.
Acknowledging our shared struggles, Geoff's classes offer the tools of yoga as an antidote to the mental, physical, and emotional obstacles – stress, trauma, anxiety, addiction, negative thinking – that we all negotiate in life. No matter the class level or focus, Geoff is most interested in nourishing a yoga community that imparts the strength, support, and stamina required for individuals to enjoy a deeply transformational personal practice and then carry the benefits with them out into the world.
Outside of teaching yoga, Geoff is an artist, freelance designer (architecture and graphic design), Bob Marley scholar, and Dad.
Geoff is teaching Beginners' Flow and Yin Yoga classes.
Geoff instructs the following:
Warm Flow classes are really great for beginners as well as experienced yogis. With the temperature set at 37 degrees (so not Bikram hot), muscles are stretched and strengthened through a sequence of static and vinyasa asana (postures) that differ from week to week designed to leave you feeling renewed, stronger and more flexible. The heat enables your joints and muscles to feel more open, allowing you to move more freely whilst also cleansing your body from the inside out (let the sweat pour). This class is open to all.