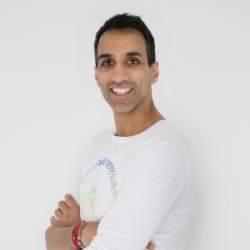 Where are you from?
Originally from Birmingham but now living in Leicester.
When did you discover yoga?
I discovered yoga just over four years ago due to multiple injuries I sustained from practicing martial arts. I had problems with my back, both knees, both elbows and both shoulders. I had surgery on my knee and thought yoga might help with the recovery. Yoga has indeed changed my life since my first class in 2012.
What kind of yoga do you teach?
Hatha yoga.
When did you qualify as a teacher?
I originally qualified end of 2013, then went on a second round of training in India in 2015, in Hatha yoga. I'm planning another round of training in India beginning of 2017. As well as teaching at .B Yoga, I also teach at a studio in Birmingham. I also work with schools in Birmingham, sometimes with the kids and sometimes with the teachers. I think yoga and meditation should be taught to kids in schools as part of the curriculum.
What did you do before coming a yoga teacher?
I've done a variety of jobs in my working life, manufacturing, logistics, lean manufacturing principles coordinator and most recently in automotive production, supplying component parts to Land Rover Solihull. I quit my job in February 2016 to focus completely on teaching and my own self practice.
What do you enjoy most about teaching yoga?
Helping others, sharing the little knowledge I have and spreading the benefits of yoga with everyone, seeing students light up from within, whether it's from being able to get into that elusive posture, or the breath finally connects with the movement, seeing their light shine lights me up also.
What do you still have to remind yourself of in class when you practice?
Keep looking within and don't think... FEEL.
What's the best yoga tip you've ever heard?
There's been a couple. One is breathe and the second is to never give up, but always let go.
What do you do when you're not teaching/practicing?
I like to read. If it's fiction or something yoga related. I meditate daily. I'm also taking lessons to learn to swim and I'm learning Italian.