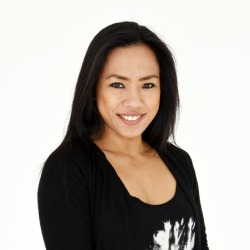 Name
Oratai Jay Vacharaphol
Where are you from?
I'm originally from Bangkok, Thailand but I've been in the UK for 13 years. Currently I live in Loughborough.
When did you first discover yoga?
I took my first hot yoga class back in 2007 in Thailand and enjoyed it so much I spent the next three months practicing as much as I could. I went on to try vinyasa and ashtanga but when I came to the UK to study my Masters I found I had no time for yoga and hardly practiced at all. Then in 2013 I found an ashtanga class in Nottingham and yoga has been a key part of my life ever since.
What kind of yoga do you teach?
Ashtanga and vinyasa yoga.
When did you qualify as a yoga teacher?
I become a certified teacher in November 2015 with All Yoga in Thailand. I started teaching regularly in Feb 2016. As well as at .B Yoga, I teach at a gym in Loughborough.
What did you do before coming a yoga teacher?
I was research/manufacturing engineer working in Coventry.
What do you enjoy most about teaching yoga?
I love to see students progress and benefit from practice.
What do you love about yoga?
For me, practice is about self-meditation and time to be with myself.
What's the best yoga tip you've ever been given?
Just practice and all is coming.
What do you do when you're not teaching/practicing?
When I'm not teaching or practicing yoga, I'm probably reading more about yoga! I also enjoy art, cooking and exploring new places when I can!