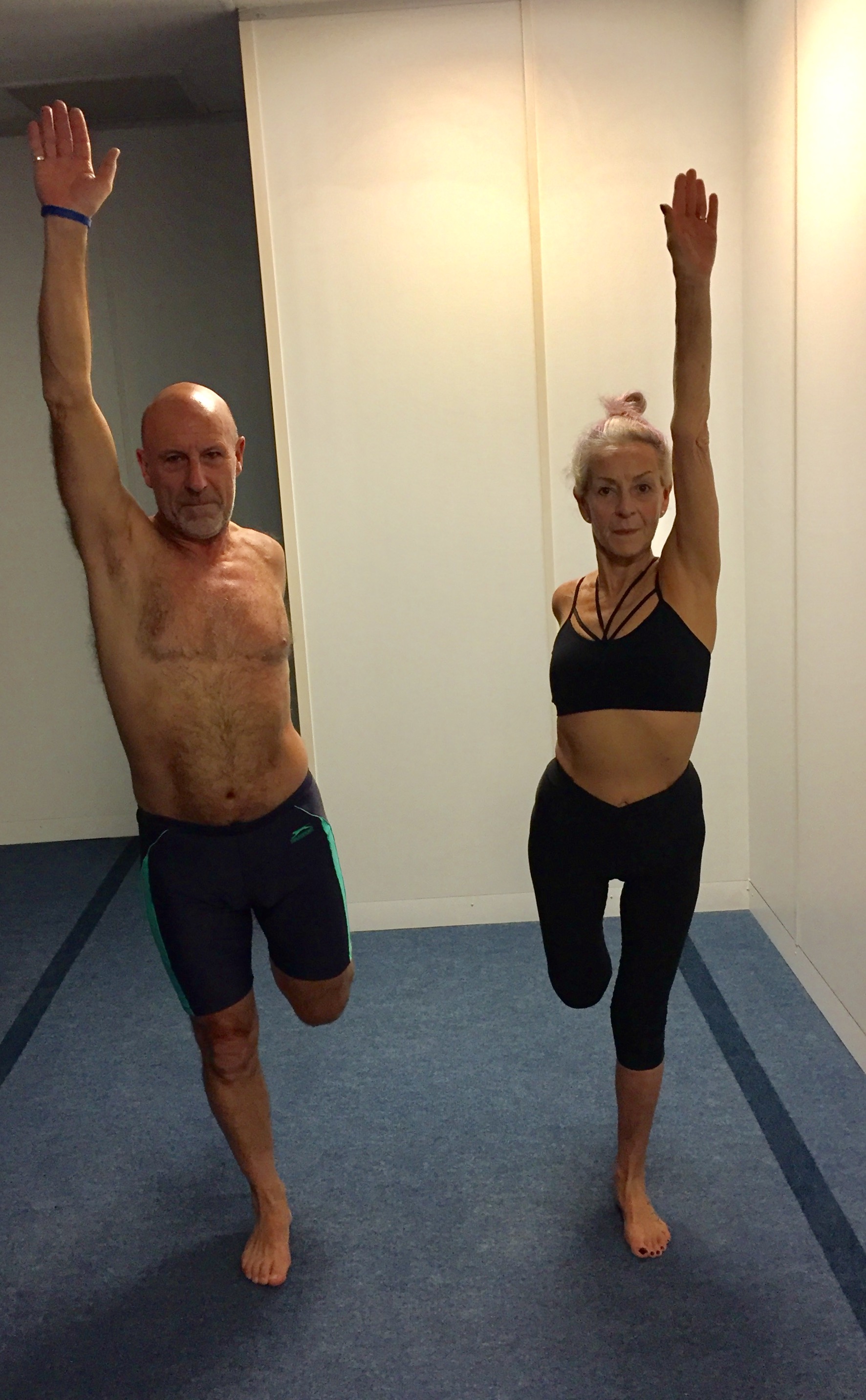 At .B Yoga we meet the people behind the poses: Interview with Glenda and Peter Barratt, both aged 69.
Husband and wife of 45 years Glenda and Peter Barratt from Leicester have been practicing Bikram Yoga together for six years. Here's their take on the iconic 26/2 series.
When did you start practicing Bikram Yoga?
Glenda: Approximately 12 years ago a friend asked if I was interested in going to the opening of a new hot yoga studio. I was not! However when my prospective daughter in law told me how amazing this new studio was, I decided to go with her – I'm still going!
Peter: I started to go to Bikram about six years ago, Glenda was always asking me to go, telling me it would be good for my back, I had neither the time nor the inclination and anyway yoga isn't for men!! Glenda bought me a 30 day pass, a yoga towel and mat for my 64th birthday (she's persistent!) and I went with her one Saturday morning.
What was your first class like?
Glenda: I seem to remember it was challenging, rather frightening, endless but exciting, unlike anything I had experienced before.
Peter: Horrendous! I had been made aware that it was hot but nothing prepared me for the inferno temperature that hit me when I opened the studio door. I remember reeling and coming back out. However never one to give up I went back in. I had no idea what I was supposed to be doing and watching everyone contort themselves into positions that I couldn't even comprehend was quite funny.
I only just made it through the standing series, feeling more dizzy and faint as we went on. I couldn't do any of the floor series because I was exhausted and didn't know what to do with myself. I eventually fell asleep or passed out only to be woken by a firm tap on the arm and the words "you don't go to sleep in my class" from the teacher. I did manage to do the breathing exercise at the end.
Everyone had left by the time I came out of the changing room, I found it difficult to get my bearings or walk, I couldn't drive home, thankfully Glenda did and once home went to bed and slept for over four hours. I realise now that I was totally dehydrated having drank very little before the session. I had never experienced anything like it before or after.
Why did you decide to go back?
Glenda: I signed up for 10 sessions so not going back wasn't an option!
Peter: Goodness only knows but I did, having drunk plenty of water the day before and during the day. It took me a long time for my body to get used to the heat and humidity.
How often do you practice?
Peter: Now that we've retired, we practise regularly when possible and convenient.
Glenda: We do three 6.45am classes per week plus the occasional extra.
Do you practice other types of yoga?
Peter: After experiencing the benefits of a Yin Yoga class on a retreat we have both started to attend the Warm Yin classes at .B Yoga.
What benefits do you gain from Bikram?
Glenda: As I'm fighting the ravages of age, e.g. arthritis, I find Bikram keeps me flexible and mobile. I used to run but aging legs and knees protest too much. If I have an injury, I tailor my practise to nurture the damage. Benefits for me are not only physical; I feel I am much more in control of my mind – the discipline of the classes now extends into my life and my thinking. I love the fact that each class is a complete workout affecting all parts and aspects of my body.
Peter: The ability to focus. I have never been good at focussing but now I find that I am completely engrossed in my practice when in class, oblivious to others around me. It helps my flexibility, I can't imagine what I would be like if I stopped. I run and race with a club and I have noticed that my breathing is much more controlled since I started Bikram. It keeps me young at heart too.
How does Bikram make you feel?
Glenda: Thankful that it's over, exhilarated, fit. I enjoy the shower afterwards!
Peter: Usually shattered at the end of the session, it is the most amazing work out. I feel very fit, rarely get any illnesses and have loads of energy. I don't know whether I would feel like this if I didn't do it.
What are the benefits to practicing together?
Peter: It's lovely to drive to class and back together. As for when we are in class, to be honest, neither of us are really aware of each other! However because we understand how challenging Bikram is it has become one more bonding aspect of our marriage.
What are you favourite postures?
Glenda: There's nothing like the elation of achieving a good Standing Bow – and nothing as annoying as falling out of it!
Peter: Tree, because being vain, I think my body looks good in that posture!
And what are your least favourite postures?
Glenda: Locust and Full Locust – I never think my best is good enough.
Peter: Locust Pose because it hurts my arms and back.
What do you say to yourself when the going gets tough in there?
Glenda: I tell myself, "It's all in the mind – mind over matter will get you there."
Peter: It's usually when I fall out of a pose, and I swear (under my breath). The left sided balancing poses are my worst and I get very frustrated but realise the more frustrated I get the more I fall out so now I try and focus on my shoulders and keep as calm as I can.
Would you recommend Bikram to other people?
Glenda: Yes, and we do very often as we both feel it is a fantastic workout for the mind and body.
What advice would you give to beginners?
Peter: Drink lots of water at least a day before your class and persevere as it does get better and you'll be amazed at the life changing benefits.