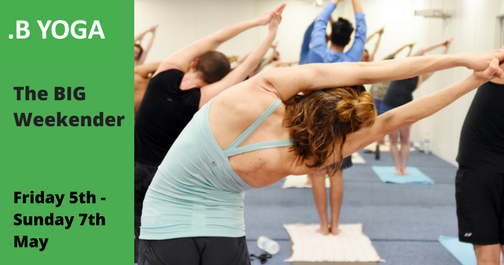 As a thank you to our valued members for your support over the past year, since Pam took over the studio, we are putting on the .B Yoga BIG Weekender!
All our members, including student members, 5 and 10 class card holders and 30 day intro pass holders can come and enjoy three days of FREE classes. We have a range of special versions of our regular classes as well as some brand new yoga types!
If you don't currently have a membership with us you can buy
a pass for the Big Weekender for £10 for a day's entry or £20 for the whole three days, giving you access to as many classes as you like!
Friday 5th May
5.30pm Candlelit Bikram Yoga (90 mins)
6.00pm Iyengar Yoga (60 mins)
7.15pm Healing Meditation (60 mins)
Saturday 6th May
10.00am Bikram Yoga Masterclass (2 hrs)
10.30am Vinyasa Power Flow Yoga (60 mins)
12.30pm Hot Vinyasa Yoga (60 mins)
4.45pm Stevan Special Yoga! (90 mins)
5.00pm Bikram Yoga (90 mins)
6.45pm Gong Yoga (60 mins)
Sunday 7th May
10.00am Bikram Yoga (90 mins)
11.00am Sun Power Yoga (60 mins)
12.30pm Yoga Fundamentals Workshop (90 mins)
3.30pm Ashtanga Workshop (2 hrs)
5.00pm Beginners' Bikram Yoga Workshop (90 mins)
5:30pm Beginners' Flow Yoga (60 mins)
6.45pm Candlelit Yin Yoga (60 mins)