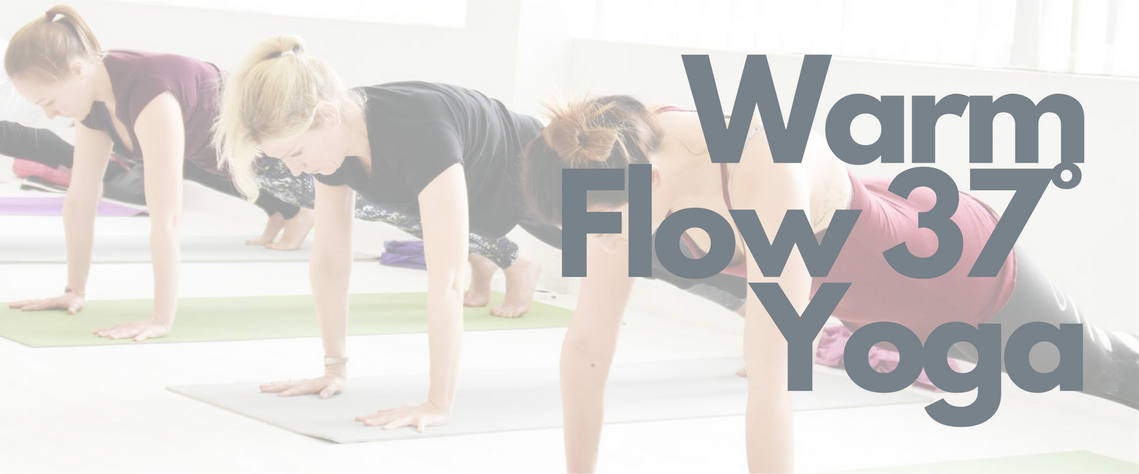 Warm Flow 37° Yoga classes are really great for beginners as well as experienced yogis. With the temperature set at 37 degrees (so not Bikram hot), muscles are stretched and strengthened through a sequence of static and vinyasa asana (postures) that differ from week to week designed to leave you feeling renewed, stronger and more flexible. The heat enables your joints and muscles to feel more open, allowing you to move more freely whilst also cleansing your body from the inside out (let the sweat pour). This class is open to all.
<<

Schedule for Wed 19 Dec 2018 - Fri 21 Dec 2018

>>
Wed 19 Dec 2018
Class
Instructor
Thu 20 Dec 2018
Class
Instructor
Fri 21 Dec 2018
Class
Instructor
Saturday, October 27, 2018
1 What is Iyengar Yoga?
Iyengar Yoga is the most widely practiced form of yoga and is focused on achieving precision and alignment of poses (asanas) through the use of props.
Iyengar Yoga is based on the teaching of the late B. K. S. Iyengar, who is recognised as one of the world's most influential yoga teachers.

2 How is it different from other styles of Yoga?
Here is what is different about Iyengar Yoga. As a beginner to the Iyengar system, you start with the absolute basics. Your teacher is trained to guide you through each asana, to build up each pose from the base: from the correct placement of the feet on the mat you learn how to align the hips, shoulders and the torso in standing asanas.

When seated you learn how to keep the weight balanced on the seat bones, and then how to maintain the vertical alignment of the spine when performing e.g. seated twists, or forward bends.

When performing asana, where there is stiffness (e.g. unable to sit cross legged without discomfort, tight hamstrings, unable to reach the toes), or injury (e.g. knee, back or neck pain), belts, bricks, blankets and bolsters are used to provide you with access to the postures without losing the aim: to
achieve the correct alignment.

With this level of attention and hands on approach from the teacher, you will find yourself learning yoga, not just doing yoga.
Through the use of props B. K. S. Iyengar has essentially democratized yoga, so everyone can have access to it.
3 Who is it suitable for?
Iyengar Yoga can be practiced by anyone, regardless of age, shape, flexibility or level of experience.
This is because Iyengar Yoga involves the use of props (blocks, bricks, belts and bolsters) to enable every student to work to their full potential and attain the correct alignment and desired action in each asana.
4 What should I know/be prepared for before my first class?
If you have a medical condition, recent surgery or injury please contact .B Yoga prior to attending class, as there are some conditions our teacher may not be qualified to teach, with the Iyengar Yoga Introductory Level Certificate.

The Iyengar method requires use of props, in the form of bricks, blocks, bolsters etc. At .B Yoga we are able to provide a set of equipment for every class. Regular practitioners are then encouraged to purchase their own props as they continue their practice.
5 What can I expect to gain from coming to an Iyengar class?
With regard to your first class, expect to be able to do every yoga pose/asana.
After just a few lessons of Iyengar Yoga you can start to experience the benefits of practicing yoga where the hips and shoulders feel more open, increase in energy levels, better sleep, dullness in the body starts to diminish. Male students start to benefit from having more flexibility in their hamstrings. Students experiencing anxiety and stress who have come to classes describe how keeping up a regular practice has helped them.
With continued practice the body develops strength and flexibility which can be
attributed to the longer duration that poses are held in Iyengar Yoga.

6 Why do you love Iyengar Yoga?
Iyengar Yoga provides a practical and methodical approach to yoga, as there are many people who suffer from stiffness, weakness and would never consider trying yoga, believing it is out of their realm of possibilities to have as a regular activity. The idea puts them off, even though they are aware of the benefits of yoga.
As someone who suffered from weakness and stiffness, my first Iyengar class changed me. It provided me a place to start my practice in a slow and methodical manner, allowing my weak and stiff body the chance to open up and strengthen. It also allowed me to bring attention and awareness to the body, away from my otherwise very consumed mind.
The Iyengar method offers classes at multiple levels (beginners, intermediate and advanced), so it is lifelong learning, exploration of the mind, body and the self. At present I am qualified as an introductory level teacher and am qualified to teach Beginners Level 1 and Level 2 classes. At present, all classes at .B.Yoga are Beginners Level 1 classes.
The best part about being a yoga teacher is being able to provide the teachings, and witness people come to class and see them transform themselves through their own dedication, concentration and perseverance. They teach and inspire me everyday.



---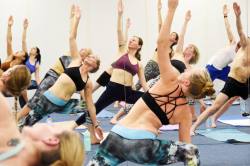 Here are the answers to some of the most commonly asked questions about our Open Day. If you have something else you'd like to know please drop us a line via Facebook.
I'm a beginner, which class is right for me?
All of them are right for you! Yes that's right, all the classes on the Open Day and on the regular timetable are suitable for beginners! In fact the Bikram series is actually called the beginner's series so it perfect for anyone's who's never done yoga before as well as regular yogis.
Do I need to book?
Yes please! It will help us tremendously on the day if you can sign up to class and register online before hand. Please click the 'sign up' button next to the class of your choice on the timetable page of our website and follow the prompts to create an account.
http://www.bikramyogaleicester.co.uk/apps/mindbody/list-schedule
Please be patient with us when you arrive as it will be busy on the reception desk so by signing up before hand it will help us make sure everyone gets into class on time.
What time should I arrive?
Please aim to get to the studio 20 to 30 minutes before the class start time. As mentioned above it will be busy on the reception desk and whilst we aim to get everyone registered as quickly as possible it may be that you need to wait for a short time.
You also want to make sure you have plenty of time for a quick tour of the studio and time to get changed and get yourself settled on your mat before the class starts. The studio will obviously be open all day during the Open Day so feel free to come and see us even earlier if you like! We're always up for a chat about all things yoga and we have a lovely lounge area with free teas so you can have a catch up with other students whilst you're waiting.
I've been to an Open Day before, can I come again?
Of course! We'd love to see you again at the studio, it's a great chance to come and try a new kind of yoga or remind yourself what you've been missing out on. Whilst all the classes all day will be free for everyone, we ask that if you've enjoyed free yoga on an Open Day before but didn't sign up, that this time you perhaps consider taking up one of our special membership offers.
Please note, should the demand be high on the day, priority will naturally be given to students who have never been to the studio before and we may ask you to wait in reception until the class is about to begin so we can assess what spaces are available.
I've purchased an intro pass or other membership previously, what options are open to me during the Open Day?
Again, classes on the Open Day itself are free for all and for this weekend only, if you've had a pass with us before, you can by a Welcome Back pass for just £30!
Normally priced at £60 for 30 days of unlimited yoga, we're offering a very special 50% discount. So there's really no excuse not to get yoga back in your life!
I'm currently a member, am I welcome to the Open Day?
Yes absolutely! This is your studio! We need as many of our regular students to come along to help show our brand new visitors how it's done and why we love the .B Yoga community so much! We particularly need our Bikram practitioners to take their place on the front row to help the new students see the postures done correctly. 5 and 10 class card holders will not have a class deducted from their allocation on the Open Day. We ask that regular students also book into class online or via the app before hand.
What should I wear?
Bikram Yoga
Prepare to sweat a lot in in a Bikram Yoga class! So dress accordingly. Ladies often wear shorts and a crop top or vest top, whilst men might just wear a pair of shorts. Most important is that you're comfortable throughout the 90 minutes. For many people less is more. Sportswear and swimwear are fine but please remember no underwear as outerwear. Shorts are preferable to leggings so you can see your knees but leggings are fine if you prefer. If in doubt layers are sensible so you can remove them during class until you find what works for you. Please note that we ask for bare feet in class (unless you have an injury or for religious reasons) and no shoes in the studio itself. Remember Bikram is an incredible leveller so please don't be self-conscious. Trust us when we say what you look like and what you're wearing will the last thing on your or anyone else's mind!
Other yoga classes
Any kind of comfortable yoga, leisure or sportswear is fine. You will still work hard and may sweat but essentially you want to be able to move easily. Again layers are a good idea, as you may want to put more clothes back on at the end of class during savasana. Socks can be worn at the end of class - again as you relax in savasana to make sure you don't get cold.
What should I bring?
If you have your own mat then you are welcome to bring that along to practice on. If you don't have your own then you will need to rent a mat for £1. You should also bring a bottle of water and two towels, one for practicing on and one for showering afterwards. Towels are available for rent for £1 as well.
Are there lockers?
Yes we have lockers for your valuable items to be stored in. The lockers take a new £1 coin. Kit bags, clothes and shoes are left in the changing rooms. You are welcome to take valuables into class with you and leave them at the back of the room or tucked under the corner of your mat. If you choose to do this however, please note that mobile phones must be switched off and please make sure the areas between the mats are kept clear. There are also cubbie holes in the corridor immediately outside of he hot studio where you can leave your belongings.

Is there parking?
Yes, we do have our own 19-space car park – for details on how to use it please click here -http://www.bikramyogaleicester.co.uk/blog/2017/12/19/car-park-now-open. This will likely be a very busy day so you might need to consider one of the other parking options available that are close to the studio. Parking is charged at £1 per class.
We offer a discounted rate for the Holiday Inn NCP car park. There is metre parking on the roads around the studio and the nearest car park is on Newark Street. A full explanation is available on the 'contact us' page of the website (scroll down to below the map): http://www.bikramyogaleicester.co.uk/pages/contact-us1
---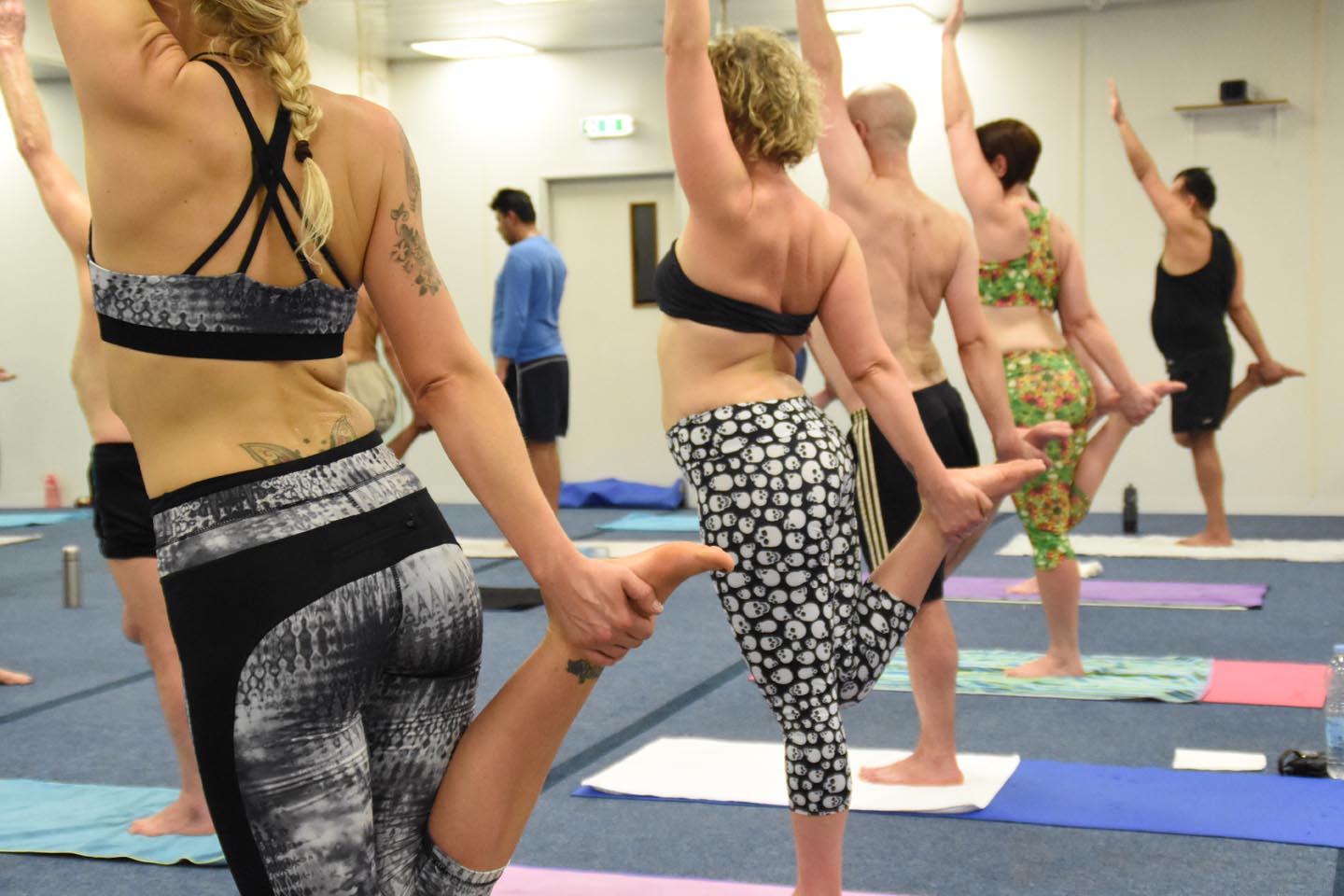 Here are the answers to some of the most commonly asked questions about our Open Day.  If you have something else you'd like to know please drop us a line on Facebook.